I had never heard of Cappadocia before traveling to Turkey. It is described on Google as
Cappadocia, a semi-arid region in central Turkey, is known for its distinctive "fairy chimneys," tall, cone-shaped rock formations clustered in Monks Valley, Göreme and elsewhere. Other notables sites include Bronze Age homes carved into valley walls by troglodytes (cave dwellers) and later used as refuges by early Christians. The 100m-deep Ihlara Canyon houses numerous rock-face churches.
The description sounds.. meh. It isn't until you google the pictures of Cappadocia, or that travel blog you follow does a story on it, that you realize how incredibly beautiful and unique this place really is!
We went here before I had heard of it, so I was completely surprised when I got off the bus to this literal magical fairy land. I grew up in Drumheller, Alberta, Canada which is a hilly town that has tons of dinosaurs and stuff, and Cappadocia reminded me of a more put together Drumheller.
This is Drumheller.
We went in May and found the weather was absolutely beautiful and I did not find it touristy at all. They had horse drawn carriages that would drive you around the streets, they had cute little diners and restaurants, they had tons of Turkish rug stores (I bought 2… on a whim! they were so nice). But the main attraction here is to go up in the hot air balloons.
If you wake up in the morning in Cappadocia you will see a sky full of hot air balloons. We did this! We had to wake up at 3 am, when it was still super dark outside, and walk to the main street where we had to sign papers and give in our passports. They trucked us out to the boonies area of Cappadocia where we watched the hot air balloons fill before we stepped inside the baskets.
The baskets has separate compartments to make sure that not everyone moved to one area and flipped the basket. There was a man that was in the middle of the basket operating the flame that allowed us to go up and down. We went up in the air just as the sun was rising and it was absolutely worth the entire trip to do !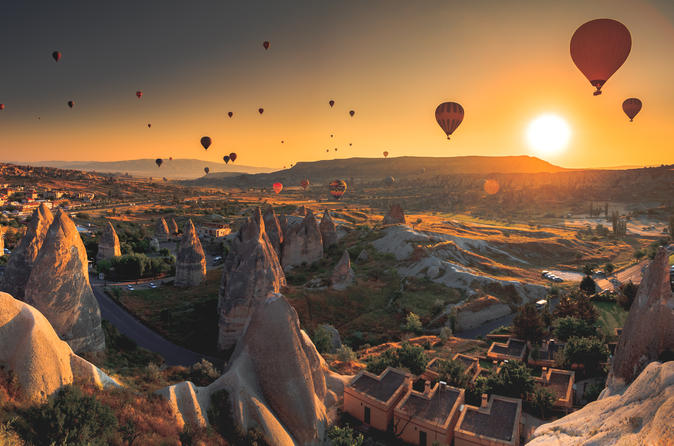 The whole thing was about an hour long, and being someone that is terrified of heights, the beauty distracted me from the fact that we were extremely high up.
In addition to the hot air balloons you can go hiking and explore around caves.
Absolutely add Cappadocia to your bucket list.
IT IS A MUST SEE 
What colour are the beaches in Greece
Traveling with a fear of heights & water